Current Projects
Rural Haiti Needs Clean Water
Building from our previous medical and technology work in Lafond and Les Palmes, Haiti, we are pleased to present the Expanding Access to Water Project for Lafond. While the needs may be somewhat overwhelming, Safer Institute remains committed to continuing our support to the people of this area working together to overcome their health and technology challenges. One of the pressing immediate needs of Lafond is an improved water supply system. Almost two thirds of the households surveyed reported getting their household water from a public connection at a communal cistern. Located about a half mile away from and 1000 feet below the elevation of the center of the village, obtaining water from this source is a tremendous burden often borne by the young women of the village. Retrieving water for the household is an all day, every day project. In addition, this water source is unprotected and untreated, so any contamination at or near the source puts all users of that water source at risk for waterborne illnesses such as cholera.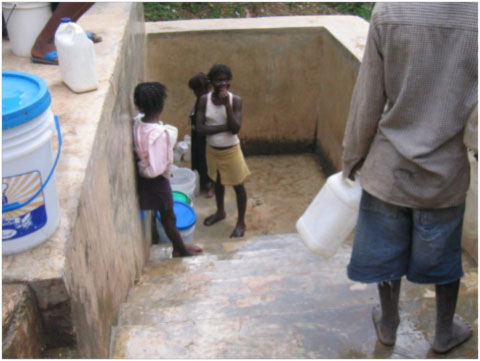 Young girls and boys retrieve water from the community cistern to carry 1 km up the steep mountainous paths to their households.
How You Can Help
You can be part of the solution by making a donation here on Safer Institute's Community Outreach page. The funds you donate will go towards the construction and repair of centrally located cisterns which will improve the community's access to water for drinking and household use. You will directly make an impact on the health and infrastructure of the community. You will also help reduce the burden that obtaining clean water creates, increasing the likelihood that a young person will finish school, and contribute towards building a brighter future for Haiti.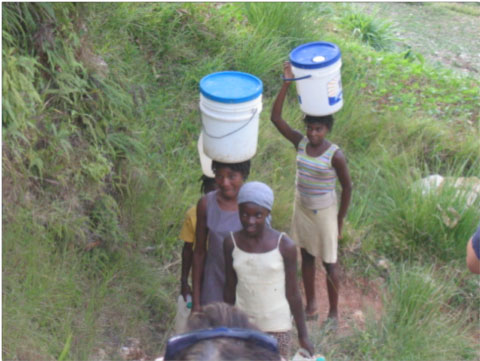 The mountainous terrain and lack of water infrastructure presents a burden to households.